Despite the mild warm November, the Christmas spirit in the city of Vienna is high. As we are stepping towards the holiday season, we will see a number of Christmas markets start to pop up all around Vienna. If you are new to the city or are visiting, then you can use our guide to find the best 10 Christmas Markets in Vienna, to enable you to experience the holiday season at its best. If you love Christmas, then Vienna is the ultimate place to be around during the holiday season, as there are many markets that you can explore right until Christmas day, meaning you will be breathing in the Holiday cheer for more than a month even before Christmas.
Here are the best Christmas markets in Vienna.
Altwiener Christkindlmarkt, Freyung
The market is located in the heart of the city, and maintains a traditional feel, without going too overboard. So you can quietly enjoy all that Christmas has to offer, without letting it get too much to handle. The market offers seasonal decorations, handmade items, bear, and endless options of gifts. So you can easily find something for everyone.
As Vienna is known for its food, the market offers excellent traditional dishes, so you can take in the complete experience of shopping, eating, and drinking in a familiar setting, along with seasonal music that will keep your spirits up, and the love for Christmas alive. If you happen to visit the market in the evening, you will be able to see many carol singers accompanied by violins and bugles players.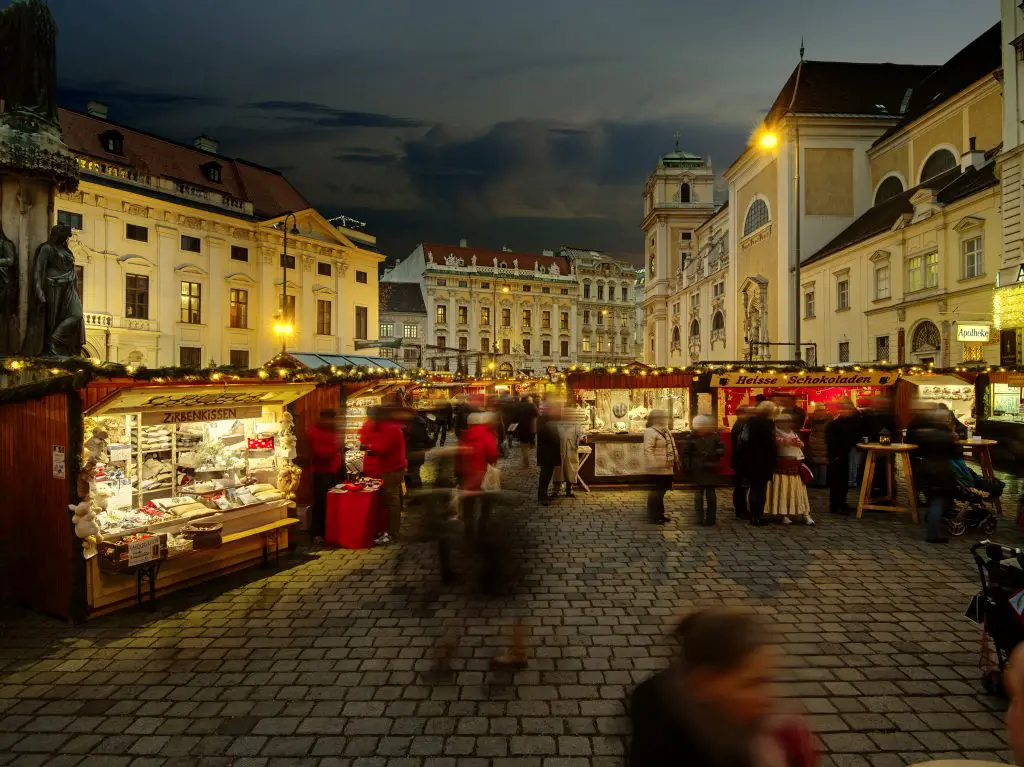 Spittelberg Christmas Market
The market has become a bit commercial in the last few years, but it still one of the best Christmas markets in Vienna, as it offers a romantic atmosphere and focused on things such as crafts and local arts. The market is located in the historical Biedermeier quarter where you can admire the great architecture. The main streets where the market is taking place bringing the ultimate Christmas experience are the Gutenberggasse and the Spittelberggasse.
In addition, your children will be able to enjoy a great deal of activities, along with adults. So if you are travelling with kids then you should consider the Spittelberg Christmas market.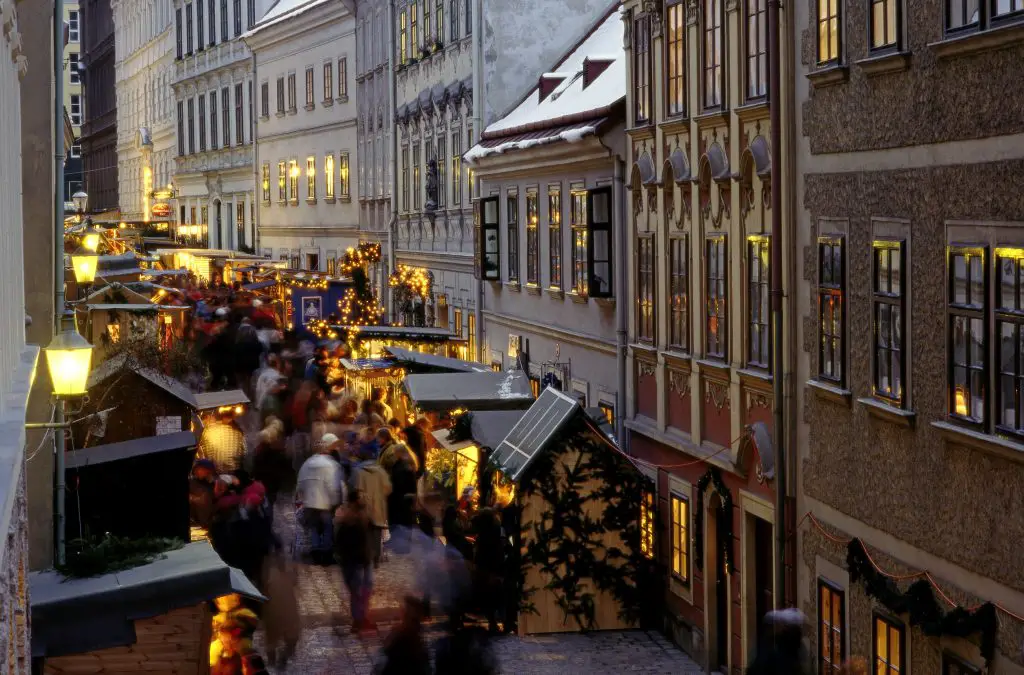 Christmas Market, Schloss Schönbrunn
If you are looking for an elegant Christmas market then this one has the perfect setting. Having the Schönbrunn Palace as it's background, it presents the most beautiful and magical scenery. In addition, there is a spectacular Christmas tree that will completely mesmerize you. The market offers the perfect Christmas touch, with handmade Christmas decorations, and gifts that are made using natural materials. Moreover, there is a complete food and drinks range, that includes warm Christmas cookies, snacks, and mulled wine. So you can easily spend the day taking in all the market has to offer.
If you are travelling with kids, then you are in for a treat, as the market has different routines on different dates, you will have to check locally to confirm what is being offered this year, but we assure you it will be enough to keep your kids entertained for days to come.

Christkindlmarkt Rathausplatz
It is considered as one of the most liveliest Christmas market in Vienna, and helps you get in the perfect Christmas mood. Here you will be able to find dozens of booths, that offer a great range of contemporary and traditional Christmas decorations and gifts. In addition to the perfect shopping experience, and the lively crowd, you will find many traditional and classic Viennese cuisine.
So you can easily enjoy mulled wine, with hot chestnuts; along with many complete meals to keep you full and happy. So you can keep on adding to the Christmas spirit, and enjoy a beautiful day here at the Christkindlmarkt Rathausplatz. Moreover, the market offers a great deal for kids, so they too can take part in the ongoing Christmas holiday.
Weihnachtsmarkt Karlsplatz
The market offers more than seventy booths from local craftsmen and artisans. That are lined up right in front of the baroque Church of Saint Charles Borromeo. In addition, the Christmas market features many live concerts on a regular basis. So you can enjoy anything from electronic pop music to harp solos.
This market features fire shows, and demonstrates different arts and crafts at the booths. So you can enjoy beautiful ceramics, glass beads, pottery, and Tiffany glass.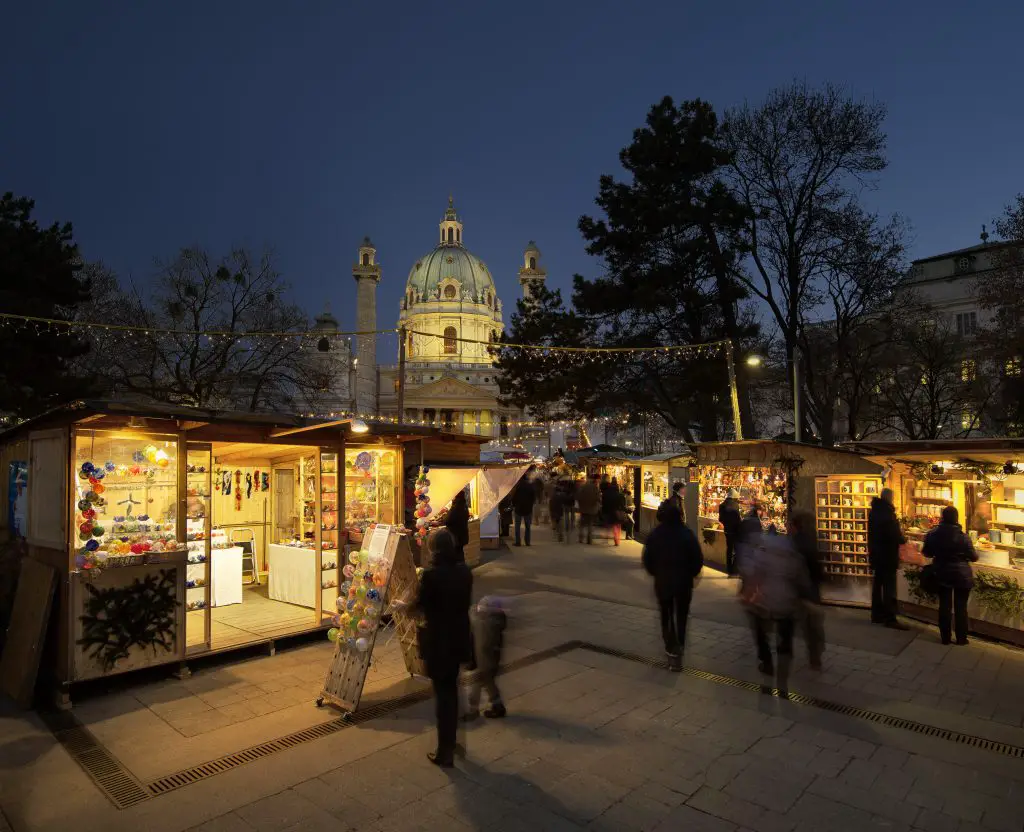 Adventmarkt Grafenegg
This is a one-day festive market, that has been outshining other Christmas markets for decades now. It is located in the gardens of the Grafenegg Castle. When you are roaming the grounds, you can enjoy quality crafts markets and arts, while listening to Christmas Carols, brass band, and trumpet fanfares.
In addition, you will be able to try a number of freshly cooked Austrian snacks and cookies. There is a complete range of baking shops, that are simply loved by children. Keep in mind that you will be required to book all the things in advance, so you do not miss out on any experience. The event is held on the 5th of December each year. Be aware Grafenegg is outside of Vienna, so best way is to rent a car, travel time is about 45min
Christmas Village, Schloss Hof
This beautiful Christmas Village offers a wonderful and fulfilled Christmas experience. Here you will find a charmingly decorated market that offers handmade knitwear, regional ceramics, handmade soaps, along with Punsch, Kaiserschmarren, and gingerbread. For children, there is a farm, where they can even ride ponies. In addition, there is a Christmas workshop and concert each Saturday night. The dates of this Christmas Village vary each year.
Christmas Village on Maria-Theresien-Platz
The Christmas village sits between tow impressive buildings, known as the Museum of Art, and the Museum of Natural History. The place is just two minutes away from MQ, and here you will be able to find a splendid Christmas market, that offers tons. In the centre of the square, is the imposing statue of the former Austrian monarch. In addition, the market offers decorated stalls, foods, drinks, and a great deal of fun.
It does not matter if you are a Christmas lover or not, as these markets are the perfect space for anyone who loves beautiful and unique things. Here you will be able to enjoy good foods, drinks, and a wide range of shopping goods.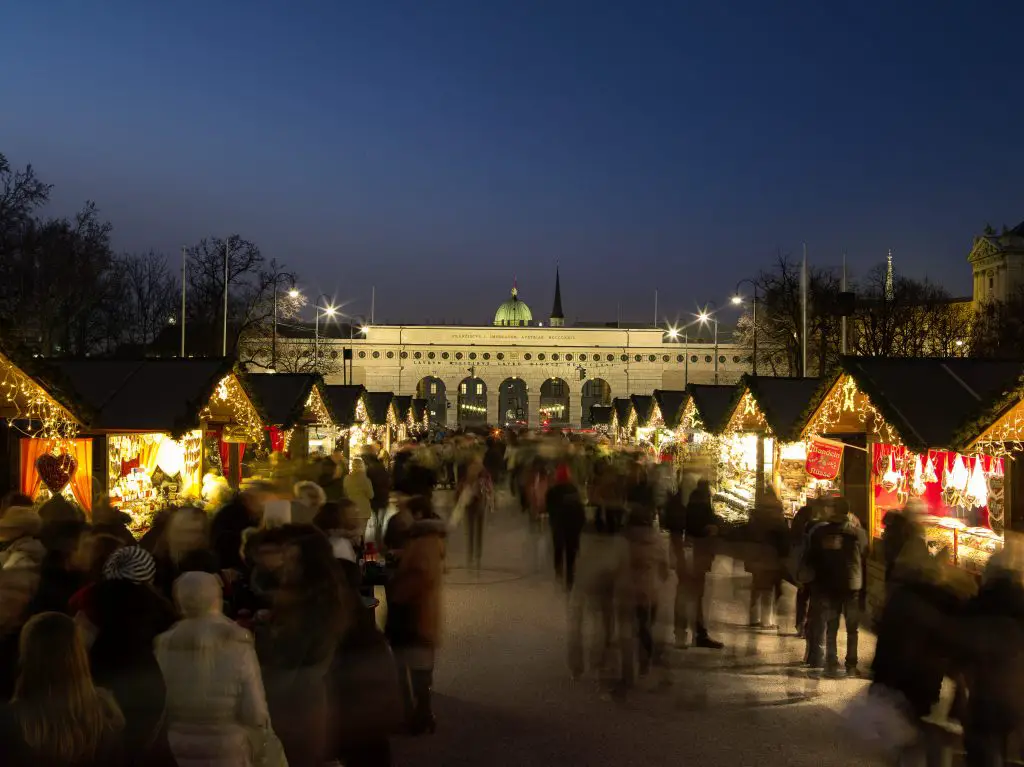 Top Tips for Visiting Vienna's Christmas Markets
Pick your favourite Market
There are such huge numbers of various markets in Vienna! Endeavor to visit the ones that have what you need. While they all have stalls with nourishment, Glühwein and broiled chestnuts, everyone has its own interesting style.
Visiting with kids? Unquestionably go to Karlsplatz or AKH.
Need a comfortable, bohemian air? Attempt Spittelberg.
Searching for a great setting for photographs? The Rathaus or Belvedere Palace are the best.
Visit at the right time
Do you need to stay away from the gigantic group at the well-known markets? At that point come in the morning, or when the business sectors open. Might you want to appreciate the twinkling lights all around? At that point intend to touch base at nightfall, and experience the business sectors during the evening.
Bring Small Cash
Some stands will accept credit cards, but cash is safer
Traditional food and drink at the Christmas Markets
Make sure to try: Maroni (simmered chestnuts), Kaisekrainer (Sausage with cheddar in the center), Bratwurst (broiled hotdogs), Soup in a Bread Bowl, Pretzels, Kaiserschmarrn, Waffeln (waffles), Lebkuchen (gingerbread), Gebrannte Mandeln (toasted almonds), Bratkartoffel (prepared potatoes), Heisse Bauernkrapfen (hot agriculturist's doughnuts), Krapfen (filled doughnuts), Glühwein (thought about wine) and Punsch (or Kinder Punsch without liquor).
Mugs as Souvenirs
Glühwein, Punsch and alternate heavenly beverages at the Christmas Markets come in charming mugs. After you are done with your drink, you can either keep the mug as a souvenir or return it and recover your store. (Ordinarily around €2-4) Each market has their own extraordinary mug, and they are diverse every year.
Visit as much as you can.
Make the rounds and visit the greatest number of markets as you can. I recorded a couple of the greater, more well-known Christmas Markets in Vienna above, yet there are innumerable others that I have not recorded. Investigate the city, and you are certain to discover adorable little markets around each corner.
Dress Warmly
The Christmas Markets are primarily outside, and it can get sharply cold in Vienna in December. Wear loads of layers, including warm base layers, caps, scarves and gloves on the off chance that you need to remain out more than a couple of minutes. On the off chance that and when you do get cool, warm up with some hot Glühwein or punch!
Source: The Vienna blog